Sausage Wholesaler in Palmer Lake, CO
Sara's Sausage in Palmer Lake, CO has nearly four decades of experience providing local businesses with the finest quality and best-tasting meats, poultry and frozen seafood. We offer a bountiful array of great-tasting meats at wholesale prices.
You might own or manage a restaurant or another establishment that regularly feeds large numbers of people. Quality meats, poultry and seafood are the essential ingredients for creating a truly delicious meal.
The better the food and flavor, the more likely your customers will come back for more.
Only the best meat wholesaler in Colorado can provide you with the finest quality products.
Try Our Never-Frozen Deli Meats and Poultry
We pride ourselves on providing our customers with the finest in meat, poultry and seafood products. Our poultry, deli meats and ribs are of the finest quality and very popular. Only our seafood is frozen to maintain its quality. We are the best wholesale meat distributor in the Colorado market. Our great wholesale meat products include:
Sausage
Boxed meats
Pork, including ribs
Chicken and turkey
Wild game
We create delectable sausages that are among the best available anywhere. We can provide you with breakfast sausages, sweet Italian, chorizo and many other varieties.
Our meat processing enables us to create some of the finest sausages that are available in the Colorado market. They are always fresh and never frozen, which makes us the best meat wholesaler in Palmer Lake, Monument, and Air Force Academy, CO.
---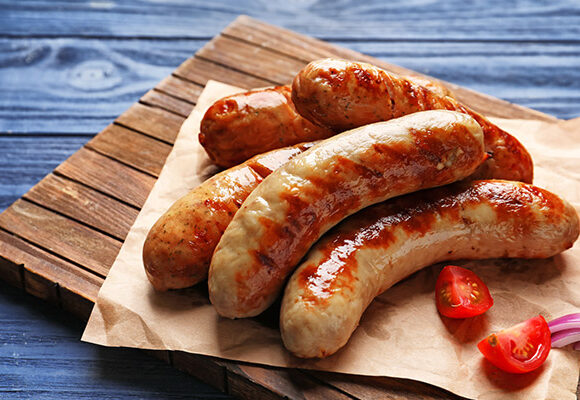 USDA-Certified Meat Processing
You cannot be the best meat wholesaler in the Colorado market without obtaining federal certification. Our USDA-certified meat processing ensures the best cuts and finest quality for our wholesale clients.
We use the best equipment in sterile conditions and have fully certified professional butchers. We have four decades of experience as a premier wholesale meat distributor.
When you want to provide your customers with only the best cuts of wholesale meat and poultry, Sara's Sausage has the best available. We provide you with the choicest cuts of quality meat, poultry, ribs and frozen seafood.
Our USDA-certified meat processing ensures we supply only the best and freshest meat, poultry, deli meats and more that are never frozen. Never frozen makes it taste better for your customers.
Get in Touch
You can call Sara's Sausage in Palmer Lake by dialing (719) 488-0530 to learn more about our many fantastic options for your next feast. We are open from 7 a.m. to 4 p.m. Mondays through Fridays and accept payment by cash or your business checking account. Contact us today to learn more.